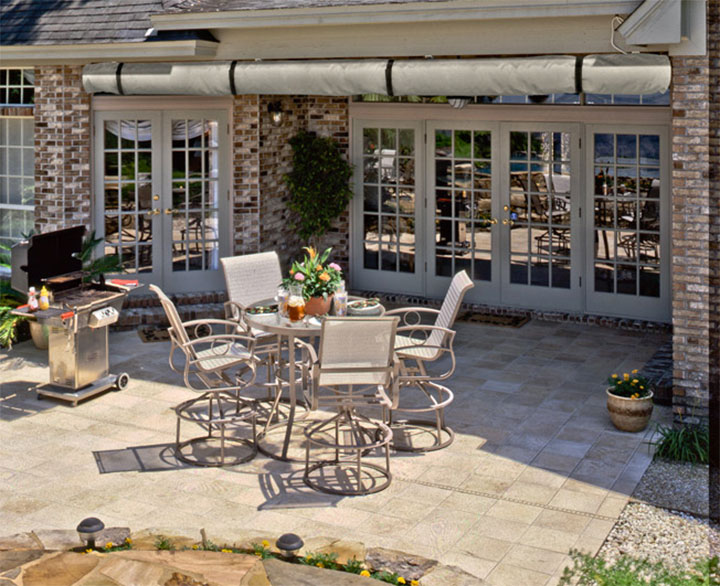 Seasonal Cover - Increase the Lifespan of Your Sunesta Retractable Awning
The Sunboot is made from your choice of acrylic fabric from the Sunesta fabric collection. It is designed to cover and protect any of our Sunesta awning models when they are retracted for extended periods of time. It will help to protect your awning from inclement weather, dirt, and animals, and helps to extend the life of your awning.
Made as a complete fabric cover to place over the retracted awning, it has an opening that runs down the entire width that can be closed with Velcro after placing over the retracted awning. In addition, we recommend using at least two Velcro straps to help secure it in place.
Don't worry about the safety of your retractable awning during the winter months!  Put your mind at ease with this easy-to-use cover. And since it is made with Sunesta's impressive acrylic fabrics, you'll have the option of choosing from numerous colors to find the one that will perfectly complement your home.
The Sunboot will fit all of Sunesta's popular retractable awnings, which include The Sunesta, The Sunstyle, and The Sunlight.
When ordering, please include the following information:
Specify if the Sunboot is for:
a. Sunesta, Sunstyle, or Sunlight
b. Sunseta Smartfold or Sunlight SmartTilt
c. Sundrop
Determine the number of Velcro straps needed, based on the chart.
For a and b, you must add 6 inches in addition to the awning width.
You may choose any Sunesta acrylic fabric.
Part Numbers:
#350201, Sunboot Seasonal Cover
#350202, Sunboot Velcro Straps