Understanding Our Awning Installation Process
Our professional awning installation process is quick and efficient so homeowners can enjoy their new retractable awning – gain peace of mind knowing that your awning has been installed correctly and is in proper working order without having to lift a finger!
After the initial purchase of your new awning, our awning technicians at Sunspaces will hand-deliver and install your new awning. Below is what you can expect during and after the installation process.
During the Installation
After we arrive at your home, we will walk you through the awning installation process and answer any questions you might have. We will then discuss suggestions as to where to put the awning before the job begins. For most homeowners, the awning will be installed along the side of the home or in some cases on the roof. Although you don't have to worry about cleaning up the awning trash and debris (we take this with us), keep in mind that we may need to move any large furniture that's blocking the work area as we do need room for ladders and the crew.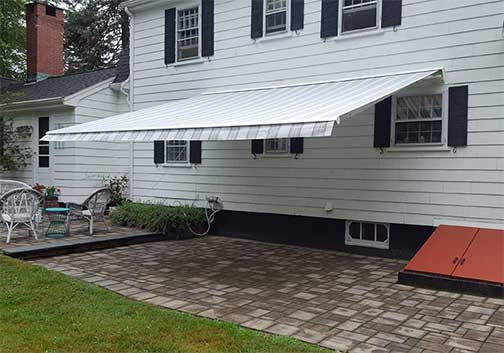 After the Installation
Once the awning is installed, our technicians will ensure the valence is installed correctly and then show you and your family members how to operate it. Whether you have a manual or motorized retractable awning, we will always go over instructions on how to extend and retract it. We will also take the time to answer any questions you might have about your awning.
The last thing you will need to do is reposition your outdoor furniture under the awning and enjoy your updated outdoor space – it's that easy!
If you haven't started the process to extend your outdoor living space and you'd like more information about your options for a new retractable awning for your home or business, contact Mr Awnings to request a free estimate today. You'll be glad you did!