SUNSETTER SERIES FABRIC SELECTIONS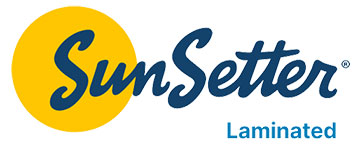 Our Laminated fabric is a heavy-duty, 100% waterproof, 5-layer fabric made of 2 thick, color-pigmented layers, an inner scrim layer for strength, and two outer layers of protective clear coating. The protective coating lets the fabric stand up to UV rays and wear and tear. Our Laminated fabric is backed by our 5-year warranty, and is also flame- and mildew-resistant, making it easy to clean and maintain.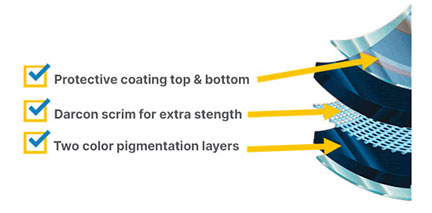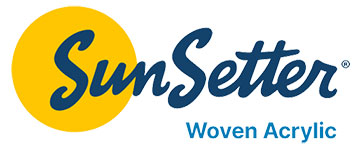 Our classic Woven Acrylic fabric is lightweight yet highly durable. 100% solution-dyed acrylic yarns are dyed at the fiber level, keeping their rich colors for longer and resisting fading. Woven strand by strand, our extensive collection of beautiful Woven Acrylic stripe combinations are exclusive to SunSetter—you won't find them anywhere else. We ultrasonically weld the seams of this water-repellent fabric to make sure you're protected from passing showers, and for your confidence, combine it with our 5-year warranty.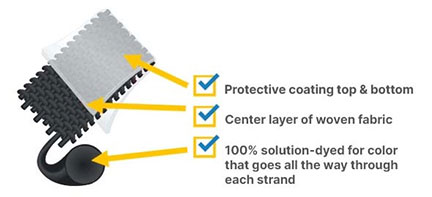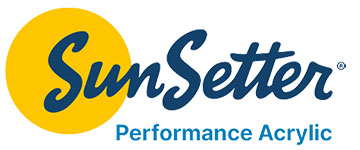 SunSetter's Performance Acrylic fabrics are the top of the line in strength and durability. Featuring 100% solution-dyed acrylic yarns that retain their superior colorfastness down to the fiber level, the fabric allows for longer-lasting enjoyment of your SunSetter awning. Our Performance Acrylic fabrics come in a variety of beautiful colors, weaves, and textures to match and enhance your home's exterior. They provide 98% protection from harmful UV rays, are water-repellent, resist fading, mold, and mildew, and are reinforced by our industry leading 10-year warranty to make sure you stay comfortable longer.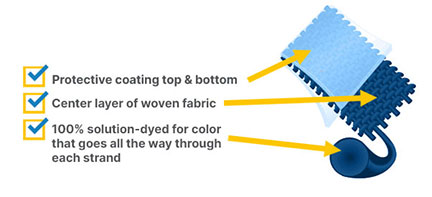 You'll find the perfect color awning to complement your home's decor from our elegant selection of Sunbrella® performance fabrics. Engineered to last and guaranteed against the elements, they're water-repellent, mold, mildew and fade resistant, and offer protection from UV rays. The 100% acrylic fabrics offer a stylish look but won't fade or degrade and are backed by our 10-year warranty–ensuring your everyday satisfaction.