Fixed Window & Door Canopies Available In North Mass
Fixed Window & Door Canopies Available In North Mass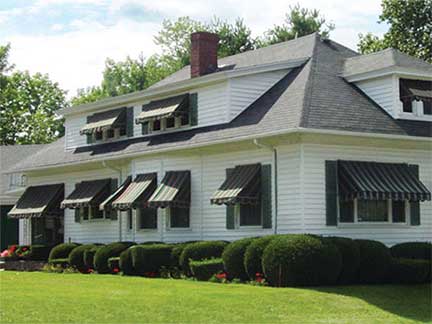 Mr Awnings is the distributor for the Futureguard fixed window & door canopies that are now available in North Massachusetts. You need only to drive through the northern townships of the state north of Boston for a roadside view of many of our awning installations in the area. For an even more stimulating tour of historical New England and our great awnings, drive through the towns of Billerica, Tewksbury, Lowell, Essex, Gloucester and Danville. While you're at it, have a look in old Cape Cod.
The NuImaage aluminum awnings that are manufactured by Futureguard are a cut above the lesser grade awnings you see in some homes. The difference is quite obvious. Futureguard products are designed to last and will protect you from the heaviest rains and the most severe snowstorms that often blow-in during many of our state's famous n'oresterns.
Our designers and engineers have created a number of oustanding styles that will fit nicely with the different home styles we favof here in the north shore. Futureguard also gives homeowners choices of 15 two-coat baked on colors and sizes meant to give your windows or doorways an elegant custom look that will keep the doorway dry and the windows shaded. You can orderthem in solid colors or in coordinated stripes. For extra protection, Futureguard NuImage awnings and Canopies can add sidewings for extra protection.
If you prefer the look of a traditional fabric awning, this manufacturer offers a number of dramatic styles and colors that will draw attention to your home's impressive new outdoor appearance. You can be assured of top quality whichever material you select..
NuImage awnings, either the stationery or roll-up versions, are easy to install and come packaged securely and complete with a number of components that will add even more value strength and long life to each awning. By adding the sidewing panels you can fully enclose the canopy. The vents allow air to escape to prevent back pressure from building up. Center rafters are also included to help maake your awnings more stable in the worst of weather
Your property might well see its market price and appeal increase. You will be the envy of the neighborhood once you install your awnings. To get started, all you need do is fill out the estimate form found on our website. If you prefer, a phone call to Mr Awnings at (978) 774-4999 will put you in touch with one of our awning specialists.