Retractable Awnings Cost Tewksbury Ma, Waltham Ma & Watertown Ma
Retractable Awnings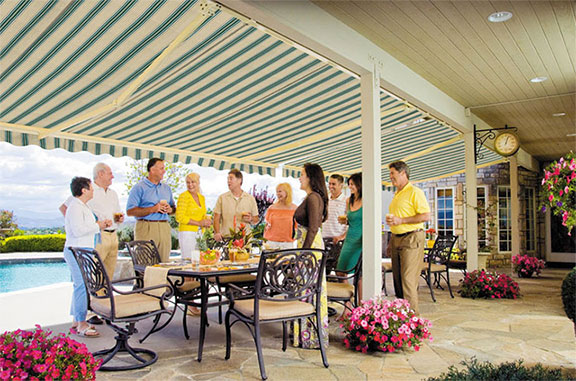 Do you have any idea how much Retractable Awnings Cost in Tewksbury MA, Waltham MA & Watertown MA? You might be surprised at the affordability of our top selling awnings from local awning dealer Mr Awnings. Our company has been servicing residents of Revere, Everett, Chelsea, Melrose, Malden, Lowell for 0ver 15 years. They join others living in Tewksbury, Waltham, Watertown, Wayland, Weston, Dracut, Winthrop and Billerica who are part of our company's sales and service territory.
Most homeowners assume that retractable awnings such as those seen on many of the most significant buildings and homes here in Massachusetts are out of their price range. Nothing can be further from the truth. Mr Awnings goes out of our way to keep prices as affordable as possible, while maintaining a high level of customer satisfaction. To make our awnings even more affordable our customers are urged to use the attractive money saving coupons found on our website. That amounts to a whopping $300 in savings.
We have grown to be one of New England's largest suppliers of quality retractable awnings due to the design, incredible styles, colors, affordability, quality and superior engineering.
The top reason you should consider Sunsetter, Futureguard or Sunesta retractable awnings for your home is that you can expand the usable living space of your patios and decks. With a retractable awning, your outdoor spaces can be used at all time of the day. You can keep you and your guests in comfortable shade and out of the sun's direct rays.
Each company offers unique characteristics that will serve you best. When you speak with our trained representative, he can guide you through the features,benefits options and help you decide on a match-up that will best serve your purposes.
Any of our well outstanding awning lines wll make your house the talk of the neighborhood. Awnings can add to your property value as well as the appearance of your home.
Residents of Tewksbury MA, Waltham MA & Watertown MA and other towns listed here can request an online quote or call Mr Awnings for a FREE Estimate (978) 774-4999.