Retractable Awnings Cost Wayland Ma, Weston Ma & Dracut Ma
Retractable Awnings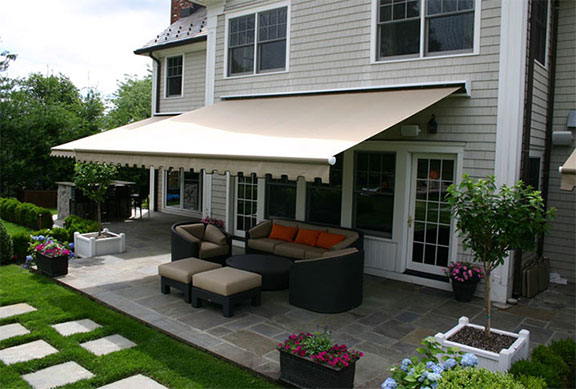 Retractable Awnings Cost Wayland Ma, Weston Ma & Dracut Ma
Spring is the perfect time to install awnings on your home. Summer is fast approaching. Don't allow another day to go by before you call the number one awning company in Massachusetts: Mr Awnings. We have been the top provider of quality retractable awnings in the state for years and we intend to stay on top.
That's why folks from townships all through Massachusetts, including:
Weston, Dracut, Winthrop, Billerica and Belmont have made us their choice.
Mr Awnings is the official distributor for Sunsetter, Sunesta and Futureguard Awnings. Each of these companies offers awnings with distinct characteristics and features that will add beauty and unmatched functionality to your home.
The right awnings will do more than update and improve your home's appearance and value. They will provide a cooler, more enjoyable and refreshing outdoor atmosphere for your patio or deck that can be up to 20 degrees cooler than areas exposed to direct sun.
That beautiful outdoor space you spent thousands to install is often scorchingly hot during peak sun hours and can go unused during the peak of summer. Pity. You and your guests can hardly draw any enjoyment from sitting in such punishing heat. However, there are options available to you.
With a Sunsetter or Sunesta retractable awning you can get relief when the sun is hottest, then retract the awning when the late afternoon sun dips lower in the horizon. How's that for a plan? If you decide on one of our optional power operated awnings, you can control your awning remotely.
Oh, by the way- your Sunsetter awnings will even help cool your home's interior by keeping sun off your windows and your home's perimeter. Watch your AC bills fall.
We invite you to peruse the scores of colors and sun resistant fabrics until you find the latest designer inspired collections that will set your home apart from others in the neighborhood. When you choose Mr Awnings, you can be sure that your choice will be the right addition to your home. There are many imitators, but if you want the finest, call us.
If you live in Wayland, Weston, Dracut, Winthrop, Billerica or Belmont, call Mr Awnings for a free quote. Our number is (978) 774-4999.