SunSetter Retractable Awnings North Shore MA
There are many reasons why SunSetter Awnings are the best selling Retractable Awnings North Shore in Massachusetts. As the exclusive factory-authorized distributor in the Massachusetts North Shore communities, Mr Awnings is the go- to company in in Essex and adjoining counties. If you live in any of the following communities, you can call Mr Awnings at 978-774-4999.
Our factory authorized sales and service areas include:
MASSACHUSETTS METRO WEST – NORTH SHORE – MERRIMACK VALLEY and SOUTHERN NEW HAMPSHIRE COMMUNITIES
And The Massachusetts Townships of:
Saugus – Swampscott – Topsfield
Essex – Georgetown- Gloucester- Groveland
Hamilton North Andover Peabody Salisbury
Lynnfield – Amesbury – Merrimac – Methuen
Middleton – Rockport – Rowley – Salem
Haverhill – Ipswich – Lawrence – Newbury –
Wenham – West Newbury – Andover – Beverly
Boxford – Danvers – Lynn – Lynnfield – ManchesterSunSetter offers 5 distinct lines of awnings
SunSetter VISTA Awnings
Manually controlled and easy to crank, this full featured lateral arm awning is the perfect solution for value-conscious users. The Vista awning opens and closes in a minute or less with very little effort expended. WE invite you to compare our Vista awning with any competing version. This awning looks and operates exceptionally welland represents an outstanding value. High Quality at a bargain price. You can't go wrong with the SUNSETTER VISTA AWNING from Mr Awnings.
SunSetter Motorized and Motorized XL Awnings
Take a step up in convenience and ease of use with our best selling, SunSetter Motorized Awnings. Away with the hand crank! Forward with convenience.
This motorized awning operates with the touch of a button. No need to get up every time an adjustment is needed. When the sun drops lower into the horizon, a quick touch of the control button will make the required adjustment.
Like the other awnings in the line, the heavy duty lateral supports open and shut hidden neatly under the canopy so that there are no unsightly distractions to deal with. SunSetter uses the finest SOMFY® electric motors and stainless steel cables so that you can be assured of years of trouble free service and use. Get The best for less.
SunSetter Motorized PRO and PRO XL models
The ultimate "top of the line" awning from SunSetter. All the high-end features you have come to expect from Sunsetter with the addition of our revolutionary Weatherbreaker* panel hidden unobtrusively in the front roller bar. The SunSetter Motorized PRO or PRO XL offers choice of woven acrylic fabrics or traditional laminated fabric. This discreet panel can be unrolled as much as 5 feet with a separate hand crank or up to a point where it blocks up to 90 percent of the sun and wind, while allowing a comfortable amount of air and sunshine into your life.
So let the sun shine in while enjoying protection from the sun and plenty of shady space on your deck or patio. Yes, this is the dawning of the age of Aquarius for your home.
Oasis Freestanding Awnings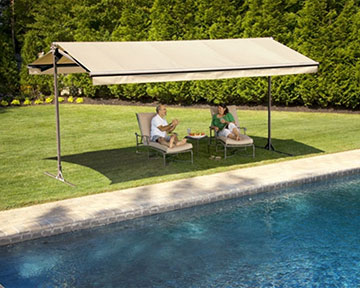 The SunSetter Oasis is our beautiful freestanding retractable awning for lawns, decks, patios, poolside, or any location where you want beautiful cool shade and protection…Turn your backyard into your own personal vacation spot … entertain family and friends on your lawn, safe from the hot sun and harmful UV rays … have a festive get-together at night under our optional patio lights.
The SunSetter Oasis
If our traditional SUNSETTER Awnings don't work, Mr Awnings has other options that might. The Oasis awnings can be mounted on any level surface, poolside or anywhere in your yard using upright supports. They are retractable and are available in 16 woven acrylic colors.
Models 900XT & 1000XT Awnings
If the big bad wolf is constantly huffing and puffing at your Massachusetts North Shore home, these heavy-duty 1000XT awning will stand up to most of his most outbursts. The SunSetter 1000XT is a manually operated awning with support arms that are engineered to take the brunt of the force. No, they're not hurricane proof, but they do perform well in windy areas. Add our optional Screen Room to create a bug-free environment.For more information about SunSetter awnings, you are invited to fill out the
request form
on our website or call this number directly: 978-774-4999Mr Awnings invites you to peruse our highly informative
website
.
Take a few moments to make the call to Mr Awnings, the distributor of Sunsetter Retractable Awnings in North Shore MA at 978-774-4999 or send in your request form found on our site and get to the top of our response list. Take advantage of our $300 savings offer before it expires.