SUNSETTER SOLAR WINDOW SHADES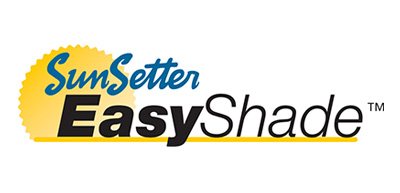 These innovative solar screens stop the glare and heat before it can enter your home, yet still let you enjoy your view…
4 Color Options
Available in Charcoal, Coral White, Cream, or Desert Sand
Protection
The vinyl screen blocks 90% of sun, wind, and mist. Great for porches, sliders, gazebos, and pergolas.
Solar EasyShade
The Solar-Powered EasyShade requires no plug-in cord, but still operates the Somfy motor by remote control.
Motorized EasyShade
The motorized model has a top-of-the-line Somfy motor hidden inside the housing and features a 12 ft. plug-in cord and remote control operation.
Manual EasyShade
The manual version works with a hand crank (included).
Available Sizes
All models come in widths from 3 to 12 feet, in 6 inch increments.
Hassle Free Operation
Rolls straight up and down every time. The Motorized and Solar-Powered EasyShades operate on guiding cables for perfect tracking. No uneven edges and no cords to tangle! The vinyl shade is protected by an aluminum storage housing in your choice of cream or bronze finish. Stays clean and neat, protected from dirt and cobwebs.
Energy Savings
Save on energy costs by blocking the sun before it heats up your home.
Remote Operation
The Motorized and Solar-Powered models work with a remote control that can be operated from inside your home. Plus, the Solar-Powered EasyShade is perfect for second floor installations where an outlet is not available.
Maintenance-Free
Superb quality, easy to clean, mildew-resistant — maintenance free!
Note: Actual vinyl screen width is 3 inches smaller than the total product width.