Are Retractable Awnings Really Worth The Price?
You've seen advertisements for retractable awnings on TV and online, and even though they look useful, you may still be left wondering if retractable awnings are really worth the price.
Since a retractable awning is an investment in both your home and in your lifestyle, most often the answer to this question is "yes", they are worth the price! Of course, your exterior space and budget should be taken into consideration when deciding if a retractable awning is right for you, and your home.
Exterior Space: It is important to make sure you have the exterior wall space needed to mount your awning, and enough clearance space for the awning to fully open. If mounting on a wall you will need at least 8 inches of unobstructed vertical space in the place you want to actually secure the awning to the wall (additional space may be required depending on the awning type). If you do not have enough wall space, a roof or overhang mount may be an option.
Budget: If you are interested in a retractable awning but find it is just out of your budget, a manual awning option may be right for you.
Whether you opt for a retractable awning or a manual awning, both can cut window glare, and reduce interior heat up to 15 degrees, which can help you save on cooling costs. They also help to save your furniture as well by blocking harmful UV rays, which can cause fabrics to fade and breakdown. Because a retractable awning is easier and more convenient to use, you may find increased savings if you choose the retractable option.
Although a retractable awning is an investment, it can help you to save money in the long run through reduced energy consumption, and less wear and tear on both interior and exterior furniture, so it is an investment that helps to pay for itself.
Learn more about our retractable awning options, and get a free consultation by contacting us today.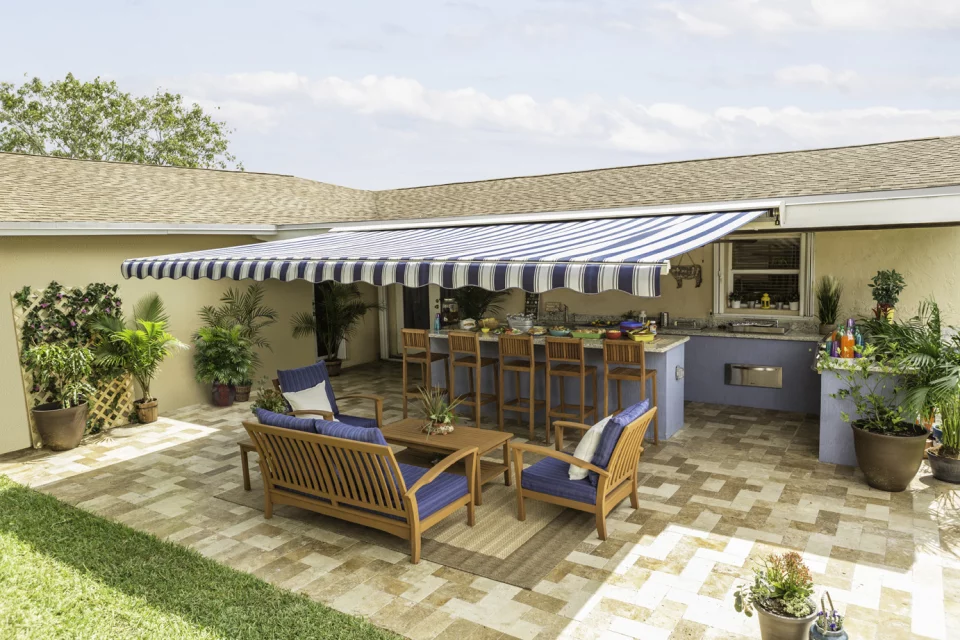 Ready to pick out your retractable awning? Browse our selection today, and then contact us for your free consultation.