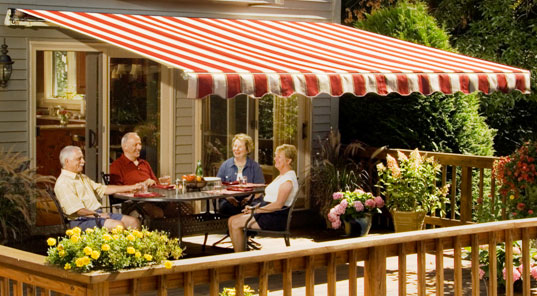 Offering the elegance of a lateral arm awning without the cost of motorization
The Manual VISTA Awning is a full-featured, superb quality lateral arm awning available at an exceptional price. It's an excellent value for budget-conscious homeowners who desire the high quality lateral arm technology and look. Using a hand-cranked gear mechanism, the SunSetter VISTA awning opens and closes in less than a minute using state-of-the-art lateral arm technology that offers superior performance and stability, creating shade and protection any time you want. Compare our VISTA awning to any other "lateral arm" awning. You can pay more, but you can't buy a better awning (unless you buy our most popular model – the SunSetter Motorized Awning, the ultimate in convenience at a touch of a button!)
Nighttime enjoyment. Add our Dimming LED Lights to extend your awning usage into the evening.
Turns your deck or patio into a beautiful "outdoor room".
Lets you outsmart the weather. Provides cool shade anytime you want. It can be up to 20 degrees cooler under your awning.
Great protection. Blocks 99% of harmful UVA and UVB rays.
Helps keep the inside of your home cooler by preventing sun from coming in windows and sliding glass doors.
Closes in seconds when you want to enjoy the sun. Stays on your home all year – no need to take it down in winter.
SunSetter VISTA Photo Gallery
(Click on an image to view larger)
Awning Style:
Lateral arms open and close horizontally under the canopy.
Operates with a hand crank (included.)
Widths and Fabrics:
8 ft. – 18 ft. (Acrylic or Laminated Fabric)
Fabric Color Choices:
Woven Acrylic Fabric and Color Choices
Laminated Fabric and Color Choices
Extends Out from Your House:
8 ft. wide awning extends 7 ft.
10 ft.- 11 ft. awnings extend 9 ft.
12 ft. – 18 ft. awnings extend 10 ft. 2 in.
Minimum Mounting Height:
needed for installation: 7 ft. 6 in.
Installation:
Mr Awnings is an Authorized SunSetter Dealer and offers professional installation.
Can be installed on:
any surface, including wood, brick, stucco, aluminum, and vinyl siding.
Can be installed directly on eaves and overhangs. Just choose the soffit mount brackets when ordering.
American Quality:
Assembled right here in the USA.
5 Year Limited Warranty
Optional All Weather Warranty
Optional Accessories:
Dimming LED Lights
Protective Aluminum Hood
Front and Side Weatherbreaker Panels
Patio Lights
Awning Cover
Cleaning Kit
SunSetter Mats