Restaurant Awnings – 3 Important Considerations In Choosing The Right Awning For Your Business
Expand your restaurant's outdoor dining space and enhance your customers' overall experience with a stylish awning for your business. Restaurant awnings can protect your patrons from the sun and rain while they relax and enjoy your delectable menu items in your outdoor space.
Need help choosing the right awnings for your restaurant? Here are 3 important things to consider in making your decision.
Size of awning

Some questions you'll want to answer in order to determine the size of awning that will be needed include: How much outdoor space do you want your awning to cover? Will your awning be attached to a building, or will it cover a space separate from your main building? How much additional seating can be added in the space I am considering?
Awning Style
With hundreds of fabric options to choose from – from striped to solid fabric colors in a rainbow of available shades – you might feel a bit overwhelmed when deciding on your awning's style. Start by examining your outdoor space, the style of your building, your ambiance inside of your restaurant, and of course, your company colors. Do you want your outdoor space to be an extension of your indoor dining style, or a totally different atmosphere? Do you want to add your restaurant logo on the awning itself? By gaining a better understanding of your current situation and what you envision your new outdoor dining space to be, you'll be better equipped to decide on the style of your awning.
Additional Features

Retractable screens can be added to the sides of your awning to protect your patrons from the elements and insects. In addition, lighting, fans, heaters, and more can also be added to enhance the overall experience. Determining what additional features you need can depend on the surroundings of your outdoor space, your style, and more.
In addition to these considerations, Mr Awnings can assist by providing information on the most durable fabrics and the maintenance required once your awnings are installed to assure that they are reliable and beautiful for years to come.
For more information on awning options for restaurants, please visit our Restaurant Awning Products page.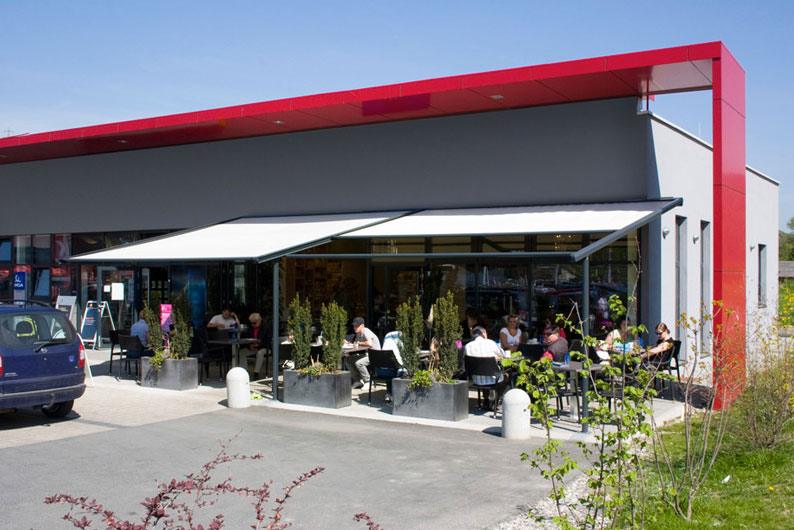 Mr Awnings Can Help You Choose Which Retractable Awning or Shelter Is Right For Your Restaurant Business