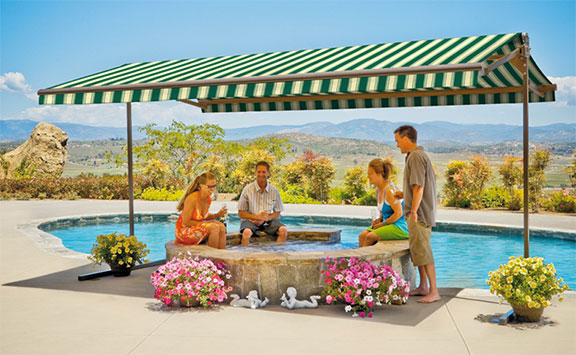 The ultimate in flexibility and versatility
The SunSetter Oasis is our beautiful freestanding retractable awning for lawns, decks, patios, poolside, or any location where you want cool shade and protection from the sun's rays.  Turn your backyard into your own personal vacation spot! Entertain family and friends on your lawn, safe from the hot sun and harmful UV rays, or have a festive get-together at night under our optional patio lights.
The SunSetter Oasis gives you the ultimate in flexibility and versatility. Put it anywhere you want for comfortable, cooling shade. It can be up to 20 degrees cooler under the awning. Closes easily in 60 seconds when you want to enjoy the sun. Can't install a regular SunSetter Awning on your deck or patio? The wonderful SunSetter Oasis is the perfect solution. Stable on any level surface. Can be left outdoors all year long. Just retract it when not in use. In woven acrylic fabric in 16 color choices (see the colors marked with an * on the Woven acrylic fabric page).
Turns your yard, pool apron, deck or patio into a beautiful "outdoor room" where you and your famiily will love to spend time.
Lets you outsmart the weather. Provides cool shade anytime you want. It can be up to 20 degrees cooler under your Oasis.
Great protection. Blocks 99% of harmful UVA and UVB rays.
Can be left outdoors all year long. Just retract when not in use. The strong aluminum frame with baked-on bronze enamel finish won't rust or corrode. Optional Oasis Awning Cover available.
SunSetter Oasis Photo Gallery
(Click on an image to view larger)
Motorized & Manual Oasis Model Facts:
Awning Style:
Lateral arms open and close horizontally under the canopy.
Sturdy, stable aluminum supports.
Sizes:
12 ft. x 10 ft. (120 sq. ft. coverage)
16 ft. x 10 ft. (160 sq. ft. coverage)
In Woven Acrylic Fabric:
Woven Acrylic Fabric and Color Choices
Height:
8 ft. 4 in. at its highest point.
6 ft. 10 in. to the front bar when fully open.
Installation:
Mr Awnings is an Authorized SunSetter Dealer and offers professional installation.
Can Be Used on Any Level Surface.
Motorized Oasis requires Electricity:
The Motorized Awning has a Remote Control and standard 24 ft. plug-in cord that plugs in to any grounded outlet.
Manual Oasis:
The Manual version operates with a hand crank (included).
American Quality:
Assembled right here in the USA.
5 Year Limited Warranty
Optional All Weather Warranty
Optional Accessories:
Dimming LED Lights
Wireless Wind Sensor (for Motorized version only.)
Patio Lights
Awning Cover
Cleaning Kit
SunSetter Mats