Sunsetter Oasis Freestanding Awnings Boston Ma Wenham Ma
Sunsetter Oasis Freestanding Awnings Boston Ma Wenham Ma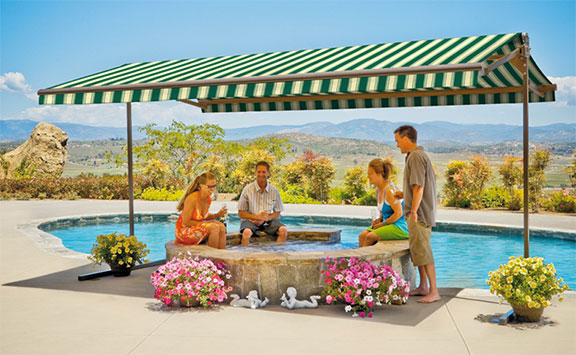 Try the gorgeous Sunsetter Oasis Freestanding Awnings if you live in or near Boston Ma, Boxford Ma or Wenham Ma. This model is fully retractable, and it looks stunning on plush lawns, patios, decks, beside a sparkling pool and many other beautiful locations. This structure gives deserving customers the ultimate degree of flexibility, wonderful versatility and creativity. With this model, individuals can make their homes and/or businesses look totally unique. It all depends on how and where you set this model up. Choose a location and create a comfy spot that has been proven to be up to 20 degrees cooler when standing beneath the attractive awning.
Why just settle for a boring deck or ordinary patio? With the Sunsetter Oasis, individuals can place it where it will generate interest and even mystique. The awning keeps people under it cool and luxuriously comfortable as well. When you want to get a little sunshine, this freestanding structure can be closed in just 60 seconds. This is the perfect secret solution for having your idyllic place of solitude. With a few simple adjustments, you can either enjoy sunshine or relaxing shade. This item is able to be left outdoors throughout the year, so it is extremely easy to maintain.
When not in use, this product should be retracted for longer wear. All that is needed is a level surface. This item comes in 16 fabulous color choices. The durable fabric is a woven acrylic. In Wenham Ma, Boxford Ma and Boston Ma, many Sunsetter Oasis Freestanding Awnings are going up in all sorts of places. Get product details on our website. Browse the entire site for more ideas. Contact Mr Awnings today at 978-774-4999.