Retractable Awnings Prices Newton Ma, Newtonville and Somerville Ma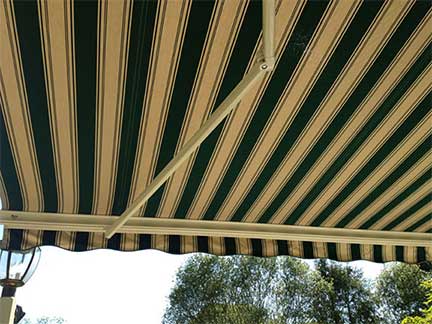 As we enter the peak of summer, outdoor temperatures in Newton, Newtonville and Somerville MA areas can rise into the high 80s into the 90s. If you enjoy sitting out on your patio or deck, afternoons can be unbearable. If you install one of Mr Awnings awnings, you can reclaim your deck, shade yourself from the sun's hot rays, and avoid the threat of harmful UV rays.
If you live in either of the following Massachusetts towns, a call to our Lynnfield MA office can start you on your way to a cooler more enjoyable experience:
Newton
Newton Center
Newton Lower Falls
Newton Upper Falls
Newtonville
Somerville
Popular Outdoor Awning Brands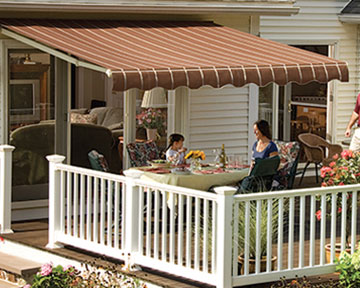 Sunsetter Manual Vista is our top selling awning. It features a high-quality manual lateral arm at an affordable price point. The awning cranks open easily in a minute and is priced at an exceptionally low price point, making it the perfect choice for value seekers with an eye for quality. The Vista awning is also offered in a motorized version for those who prefer to spend a bit more for the convenience of a push button control. Sunsetter Awning owners will also save on their air conditioning bills. Properly installed retractable awnings can actually cool your home interior by as much as 20 degrees. That can add up to considerable savings on your electric bill.
The Sunesta awning which extends 14 feet and is available with popular accessories like motorized controls that make operating your awning simple.It includes 4 coated arm cables for more strength and a cleaner look. Choose a manually operated awning or a motorized control button for almost instant shade when the need arises. Sunesta Retractable Awnings for home comes with an array of Standard Features that homeowners appreciate, including outdoor awning pitch adjustments, protective hardware covers, folding arms and a low sun protection system.
Why Choose Mr Awnings for Your Awning Installation
Mr Awnings of Lynnfield is the family-owned distributor of the best selling, most amazing retractable awnings in the country. In addition to window and door canopies and solar shades, we offer the industry-leading Sunsetter Awning line, Sunesta Awnings and Futureguard Awnings. We are prepared to offer special retractable awning prices to customers in Newton MA, Newtonville and Somerville, MA. Contact us today to get an estimate for your retractable awning.