Retractable Awnings Prices Framingham Ma, Groton Ma & Holliston Ma
Retractable Awnings Prices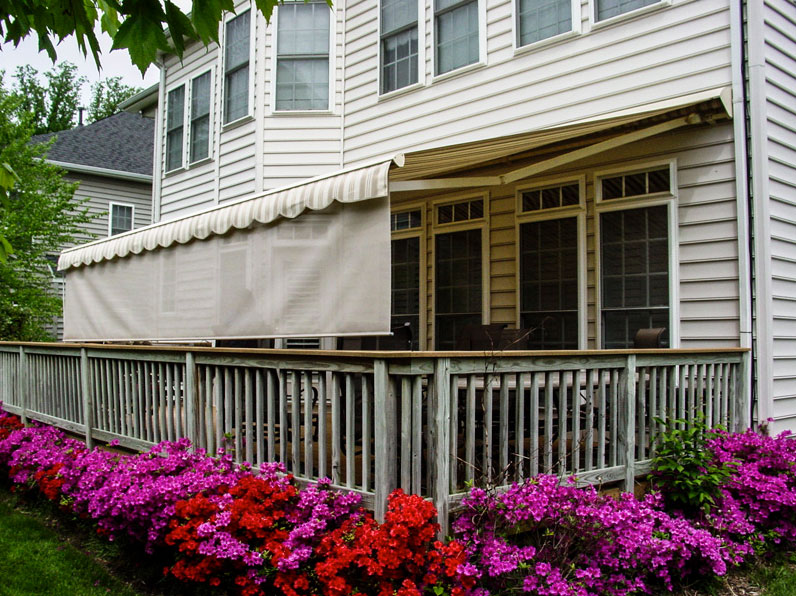 Before you research retractable awning prices in Framingham MA, Groton MA & Holliston MA, you should spend some time looking at Sunsetter, Sunesta and Futureguard Awnings and researching what their capabilities are for homeowners and businesses. From a distance, it may appear that awnings are the same no matter who you buy them from. Nothing can be farther from the truth. While some colors may appear to be identical, the thread count, color dyes, stitching, durability and warranty might be miles apart.
We believe a well-informed customer can make the right decisions to purchase based not only on price but on a number of important variables. We can help you decide on whether manual or motorized retractable awnings make the most sense to solve for your sun or other weather related conditions. Once you know the facts, we are certain you will make the right decision. Your actual price is determined by the amount of space you want to cover, fabric selection, mounting options, motorized or manual activation.
Benefits of Choosing Mr Awnings for Retractable Awnings
If price is your main concern, consider this: No matter what the circumstance might be you can not get a better deal buying direct from the Sunsetter factory. We promise that the Mr Awnings price will always be the same as the factory direct price. Plus, you benefit from buying from a local dealer like ours that will spend face time with you to answer questions and install your awnings. During our meeting, we will answer any specific questions and handle any concerns you may have with installation or any other issues. Mr Awnings wants you to be completely satisfied.
We are Mr Awnings, a local 15-year-old family business and authorized dealer for Sunsetter, Sunesta, Futureguard and Graber. Our family owned awning business has been providing homeowners and businesses throughout our region with the finest retractable awnings ever made for over 15 years. Fill out our free estimate request form or call us at 978-548-4162 for retractable awning prices in Framingham MA, Groton MA & Holliston MA.